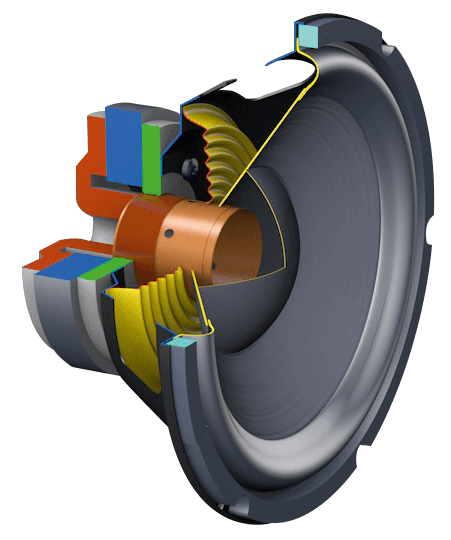 Pleasant sound all around
With a wide 120° viewing angle and incredible feedback resistance, the POLAR 10 can be used anywhere you want, both on stage and in the room. In many cases, you can dispense with a stage monitor altogether. POLAR 10 can also be easily positioned on raised stages, etc., by simply removing the lower column element - the spacer - to keep its directionality aligned with the audience. Loud on the dance floor, assertive in the front rows, and conversation-friendly in the back of the room, the POLAR 10's sound pressure gradually tapers to ensure a satisfying audio experience for everyone in the room.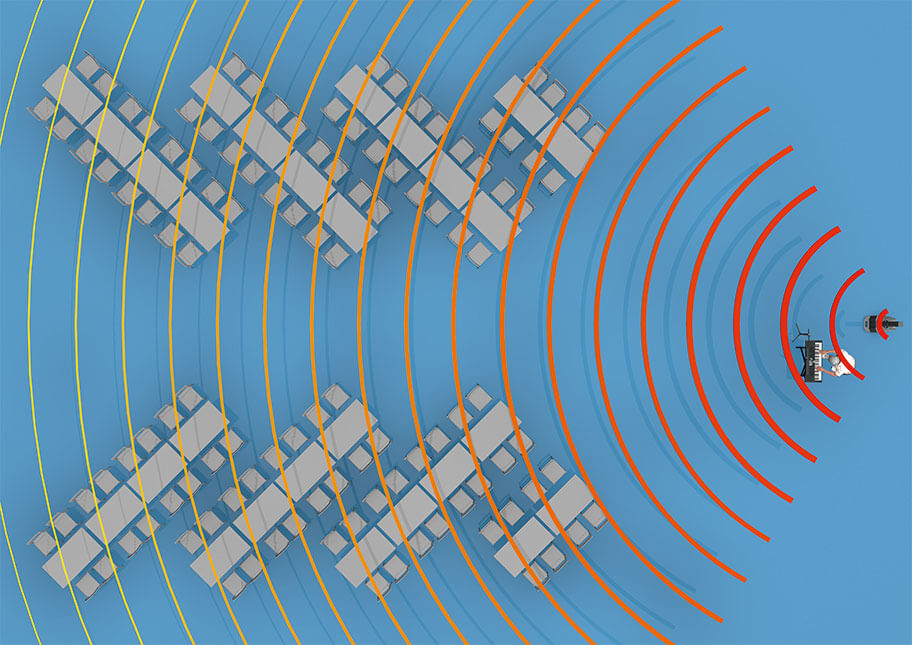 Placing POLAR 10 anywhere is a breeze thanks to its wide dispersion angle, homogeneous volume distribution and excellent feedback resistance.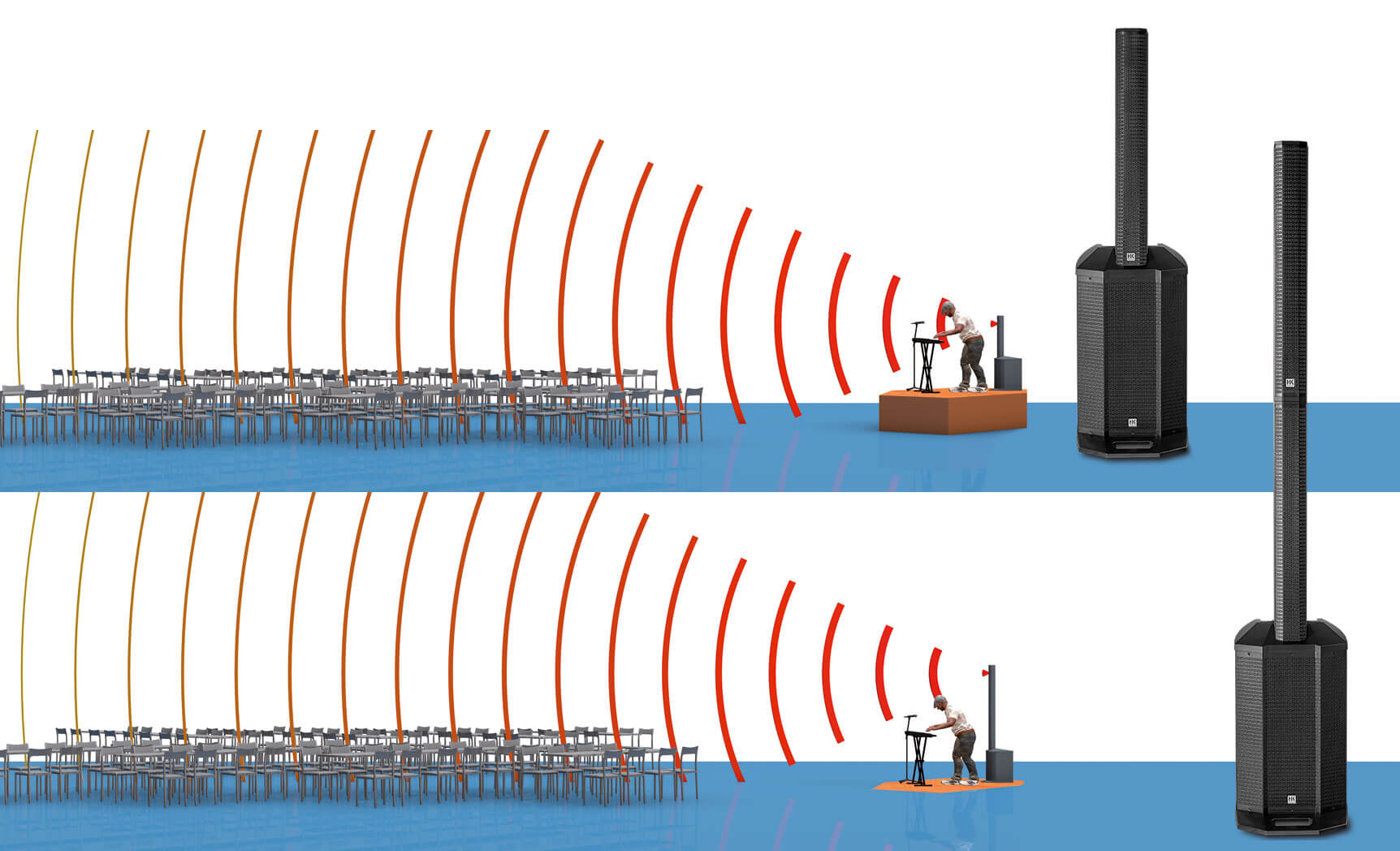 When POLAR 10 is placed on the floor, the subwoofer, spacer and mid-tweeter unit provide the perfect vertical orientation for a standing and/or seated audience. When set up on a raised stage, the optimum height is achieved by removing the spacer.
Built-in four-channel mixer
The built-in four-channel mixer provides multiple connections for many applications - two channels for mic or line signals, a special instrument channel for acoustic guitar or similar, and an Aux channel for pre-recorded music.
POLAR 10 also enables wireless audio playback via Bluetooth 5.0 , which has four times the range of previous versions.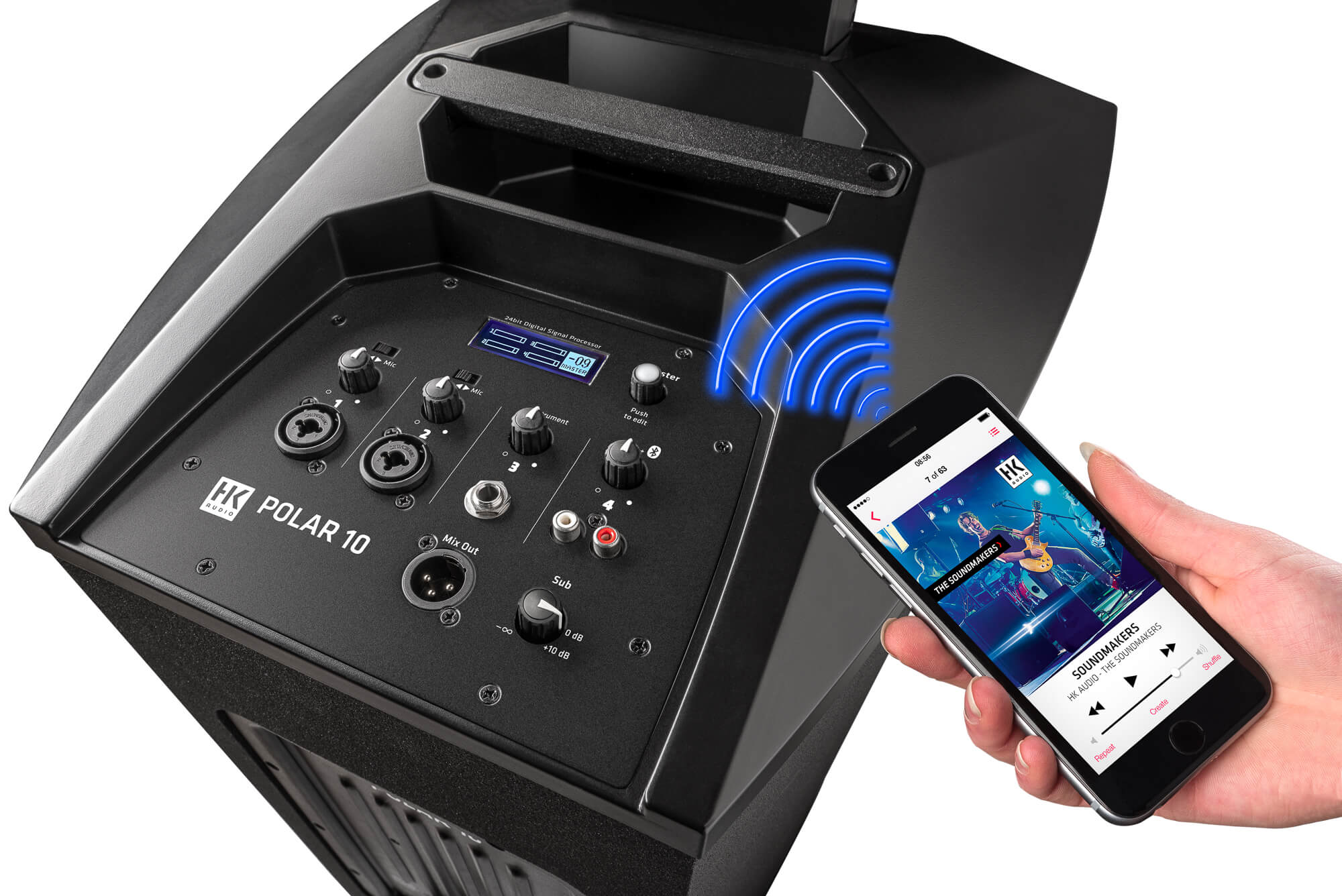 Three sound modes (Music, Voice and DJ) and a semi-parametric master equalizer allow users to easily and effectively adjust the sound of the POLAR 10. In addition, up to five sound settings can be saved as User Presets, which can be recalled as needed.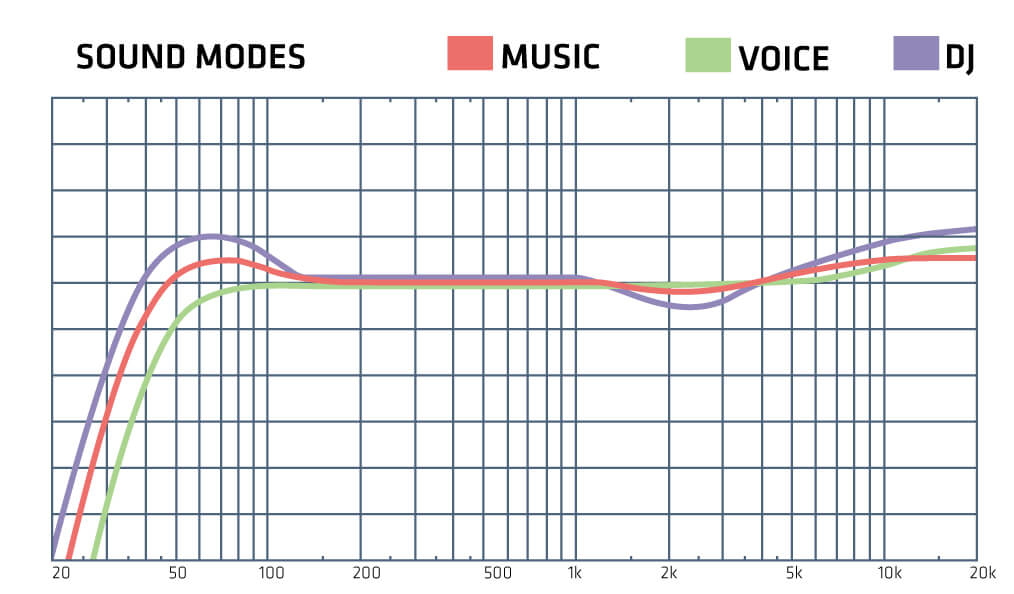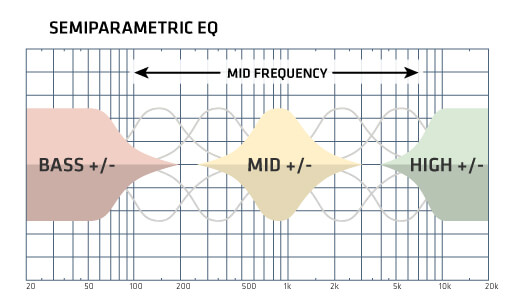 For events in very large rooms or outdoors, the POLAR 10 can be conveniently used as a delay speaker. Using the integrated display, users can set the distance from the main sound system to the POLAR 10 system, and the DSP will automatically calculate the appropriate delay time.

Volume controls for four channels, master volume and subwoofer are directly accessible in all applications. Settings that are required less frequently, such as the Semi-Parametric Master Equalizer, are accessed via the rotary push button and easy-to-read display. The newly developed EAS Connect connection system connects the three main components of the POLAR 10 comfortably, securely and wobble-free; cables are not required.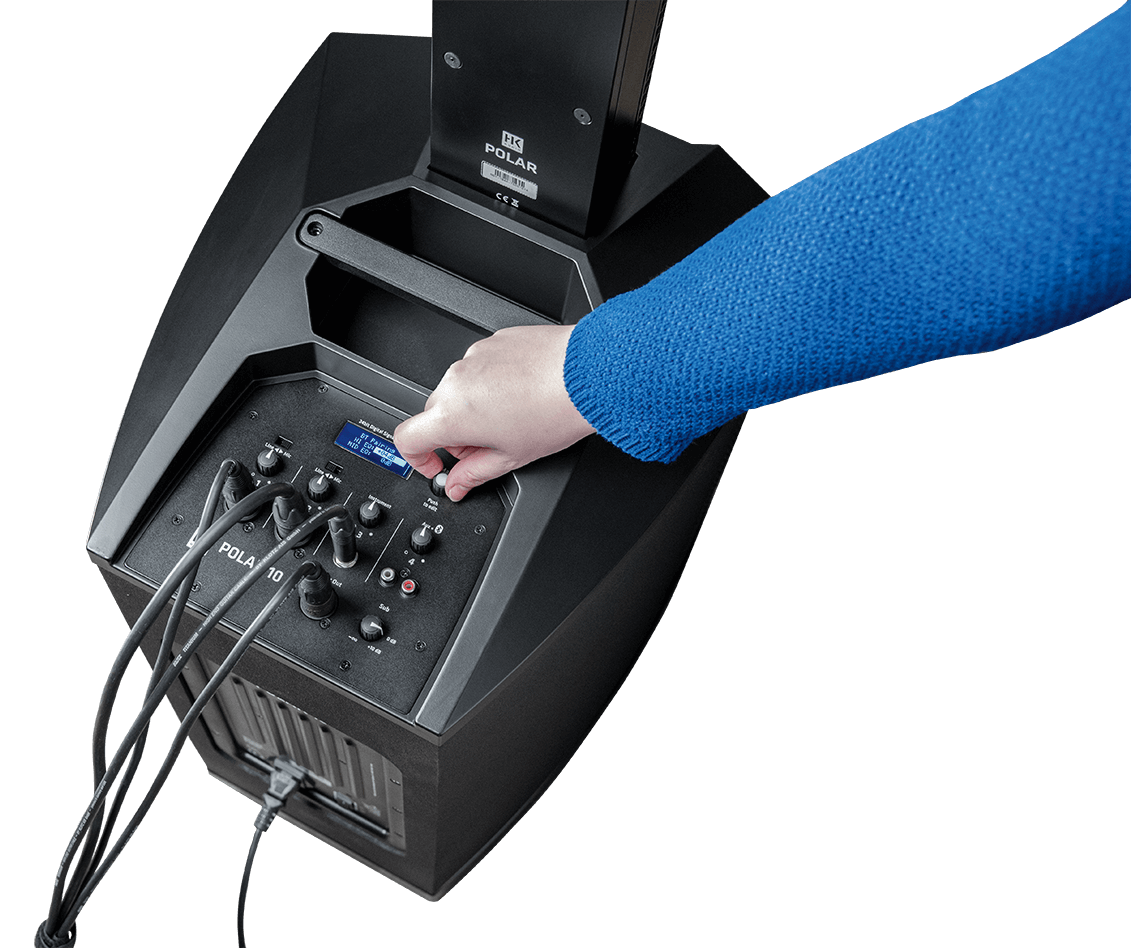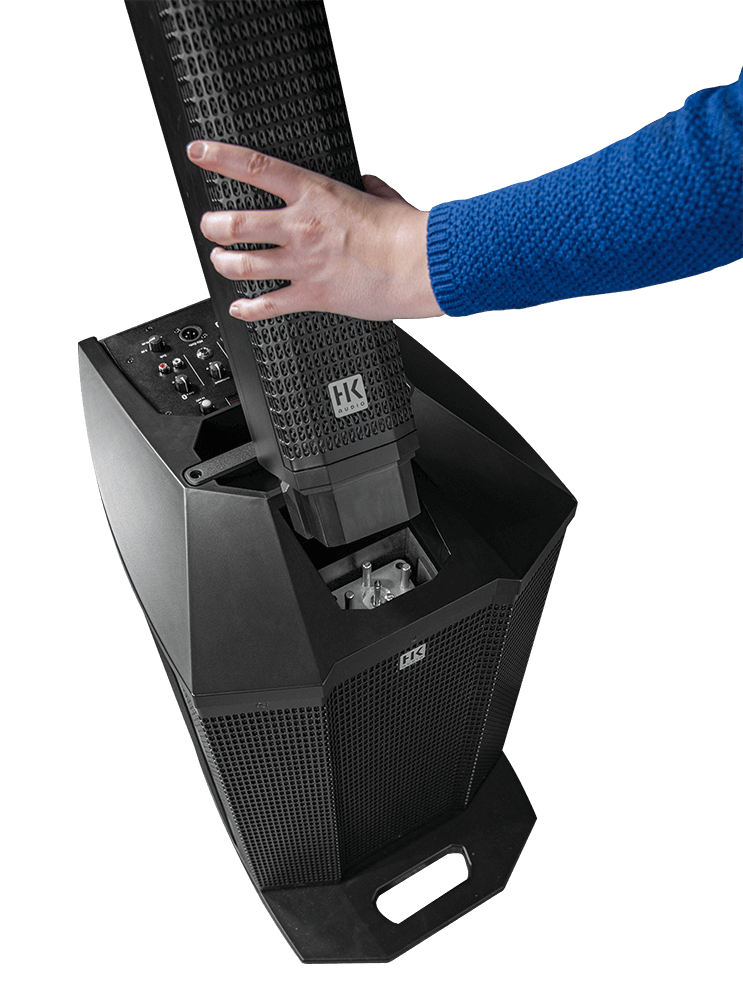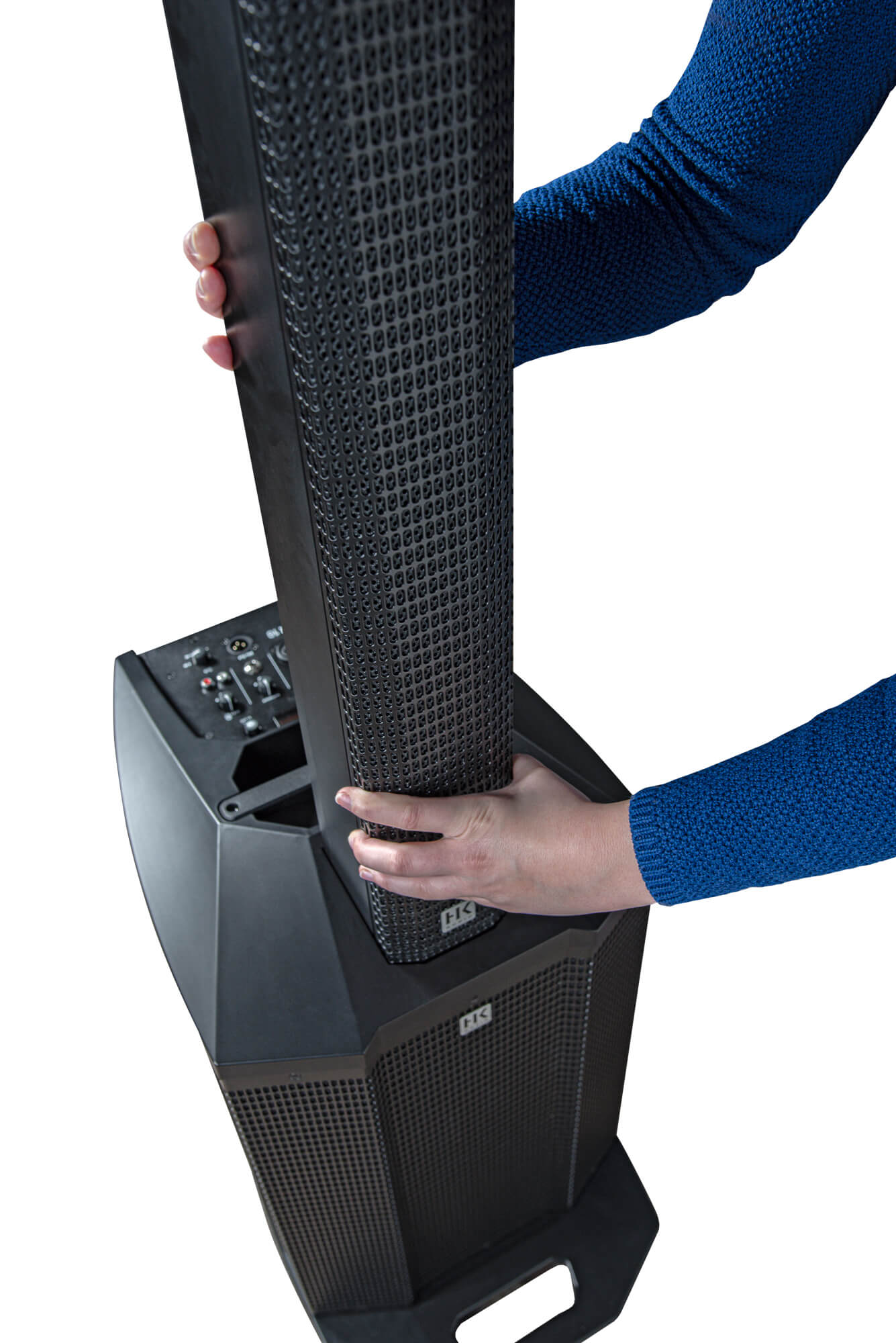 Accessories included
The POLAR 10 comes complete with a padded gig bag for the two column elements and a padded protective bag for the subwoofer.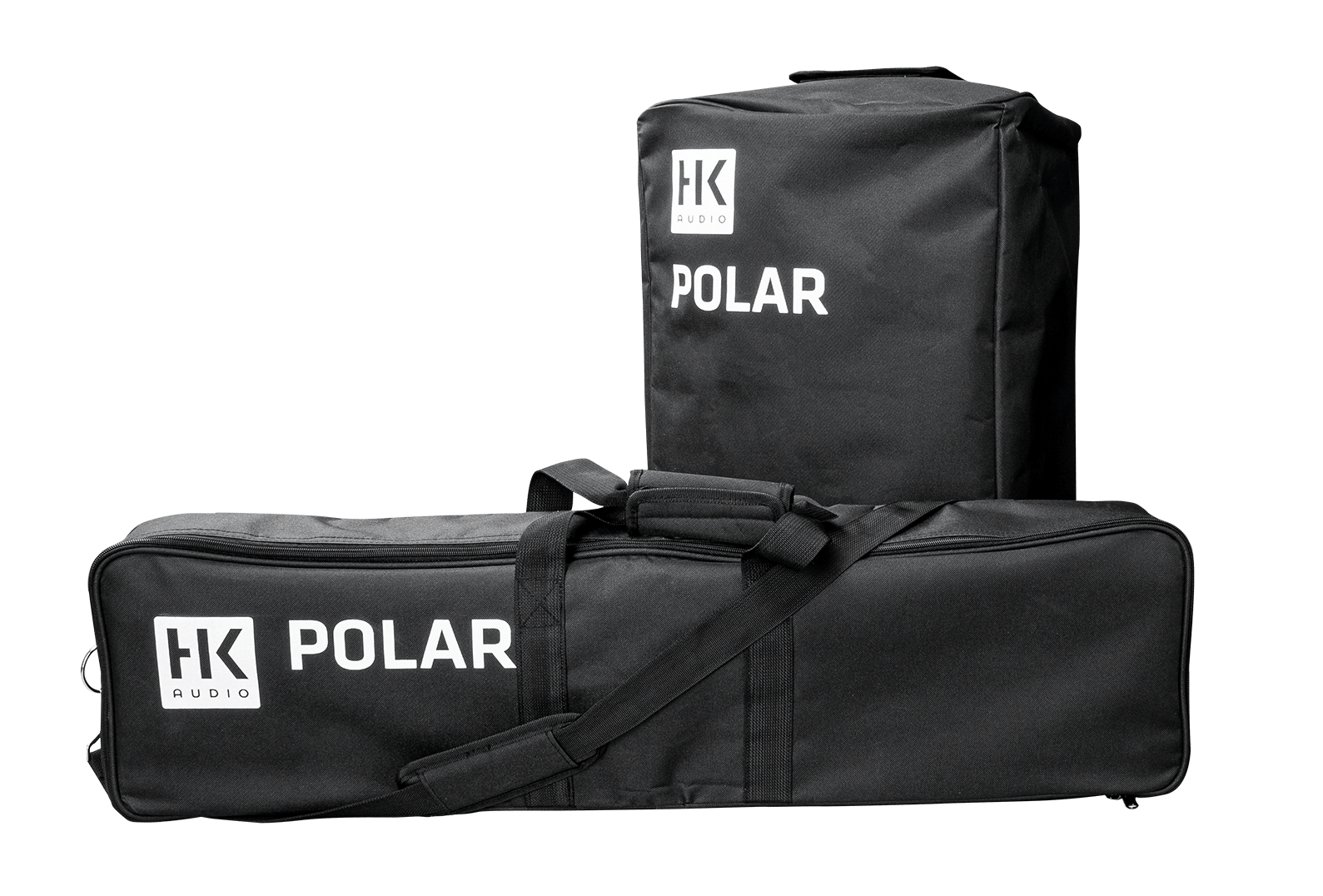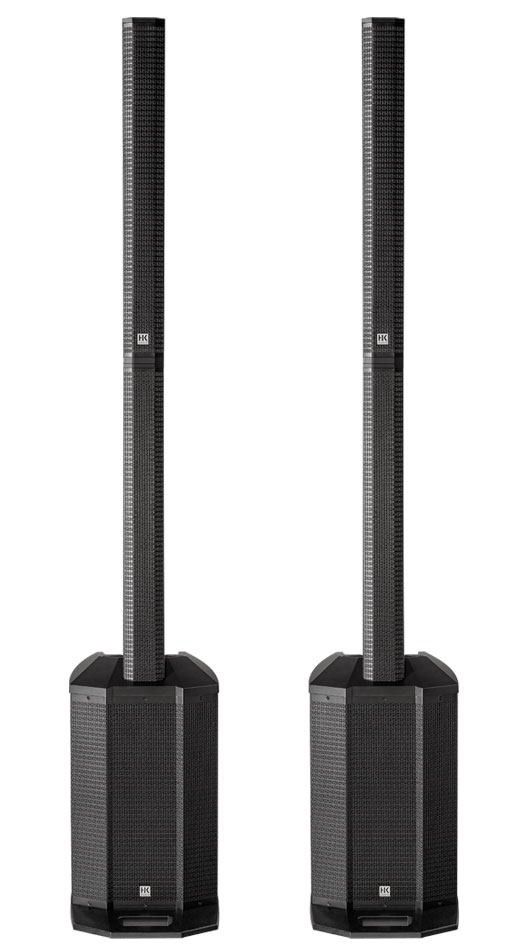 Naturally, two POLAR 10 systems can be used for a stereo setup.
Characteristics
A full-featured and user-friendly full-range active loudspeaker system
Integrated 24-bit DSP that delivers a consistent sound image across the entire frequency range for rich sound with low distortion for fatigue-free listening.
Five user presets tailored to dial in the right sound for every situation and place
10" subwoofer for powerful bass
2000W Class D amplifier with plenty of headroom and excellent dynamic response.
Integrated four-channel mixer with versatile connectivity options, Bluetooth 5.0 audio streaming and auto-dimming display.
Comes with speaker bag and padded subwoofer bag
HK Audio Polar 10 technical specification
POLAR 10 system
Maximum peak SPL: 126 dB in half space
Frequency response +/- 10 dB: 38 Hz - 20 kHz
Power amplifier output: 2000W
Bluetooth: 5.0
Housing: Birch multiplex/ABS
Mixer: 2 × Mic/Line, 1 × Instrument, 1 × Aux/Bluetooth
Total height: 213 cm
Weight: 26.9 kg
POLAR 10 Subwoofer
Woofer: 1 x 10″, 2″ voice coil
Dimensions (W x H x D x D): 36.6 x 62.5 x 54.1 cm
Weight: 21 kg
POLAR 10 Mid/High unit
Midrange driver: 6 × 3 ", 3/4" voice coil, neodymium
HF driver: 1 x 1″, 1″ coil
Horn directivity: 120° × 30°
Dimensions (W x H x D): 10.8 x 82.5 x 9.8 cm
Weight: 3.9 kg
POLAR 10 Walk
Dimensions (W x H x D): 10.8 x 82.5 x 9.8 cm
Weight: 2kg