Regular price
3.777,00 zł
Regular price
3.999,00 zł
Sale price
3.777,00 zł
Unit price
per
Sale
Sold out
 The Action series inherits the exceptional sound quality and solid construction, thanks to
 which professional DAS systems have become an international standard
 sound system. Designed from real experience, they offer
 exceptional performance, absolute reliability and unparalleled convenience. 





Product characteristics
We have at our disposal: Action 508A, Action 512A, Action 515A, Action M512A, Action 215A and three Action S18A, Action S118A and Action S 218A basses. Each of the products has passive counterparts.
At the very beginning, it is worth noting that the cabinets are made of birch wood, covered with black ISI-FLEX paint. They have high durability and resistance to the most demanding conditions. The attractive appearance and the choice of white or black versions are additional advantages of the new series.

DAS Audio Action 500 - speaker without grill.
The Action 500 series is based on the new GV speakers, the M-34 drivers. A new D-cash amplifier has also been proposed, providing even greater power and efficiency. A novelty that the products of competing companies lack is the use of new tubes for the driver. They provide a better frequency response both in the vertical and horizontal planes. At the same time, they offer a wider dispersion angle of 90° x 60°. The tubes can be rotated to maintain consistent coverage of the horizontal position. The Action 512/512A and 515/515A models have two angled pole mounts, 0º and 10º, allowing for customizable coverage. DAS Audio was the first to use such a solution in this price category.
  


Back panel
All active models feature two combo XLR mic/line inputs and an XLR-Ż output jack. The loudspeakers have a built-in DSP processor (DAScontrol™), which allows you to choose three different settings: Live, Dance, Monitor and HPF and LPF filters.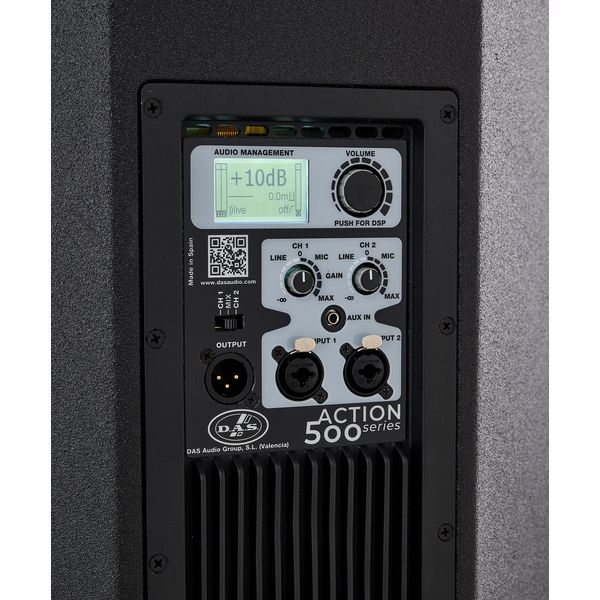 Bass columns
The bass columns are built with the latest, newly designed DAS loudspeaker - 18 FW. It ensures clarity and uncompromising sound at maximum deflections.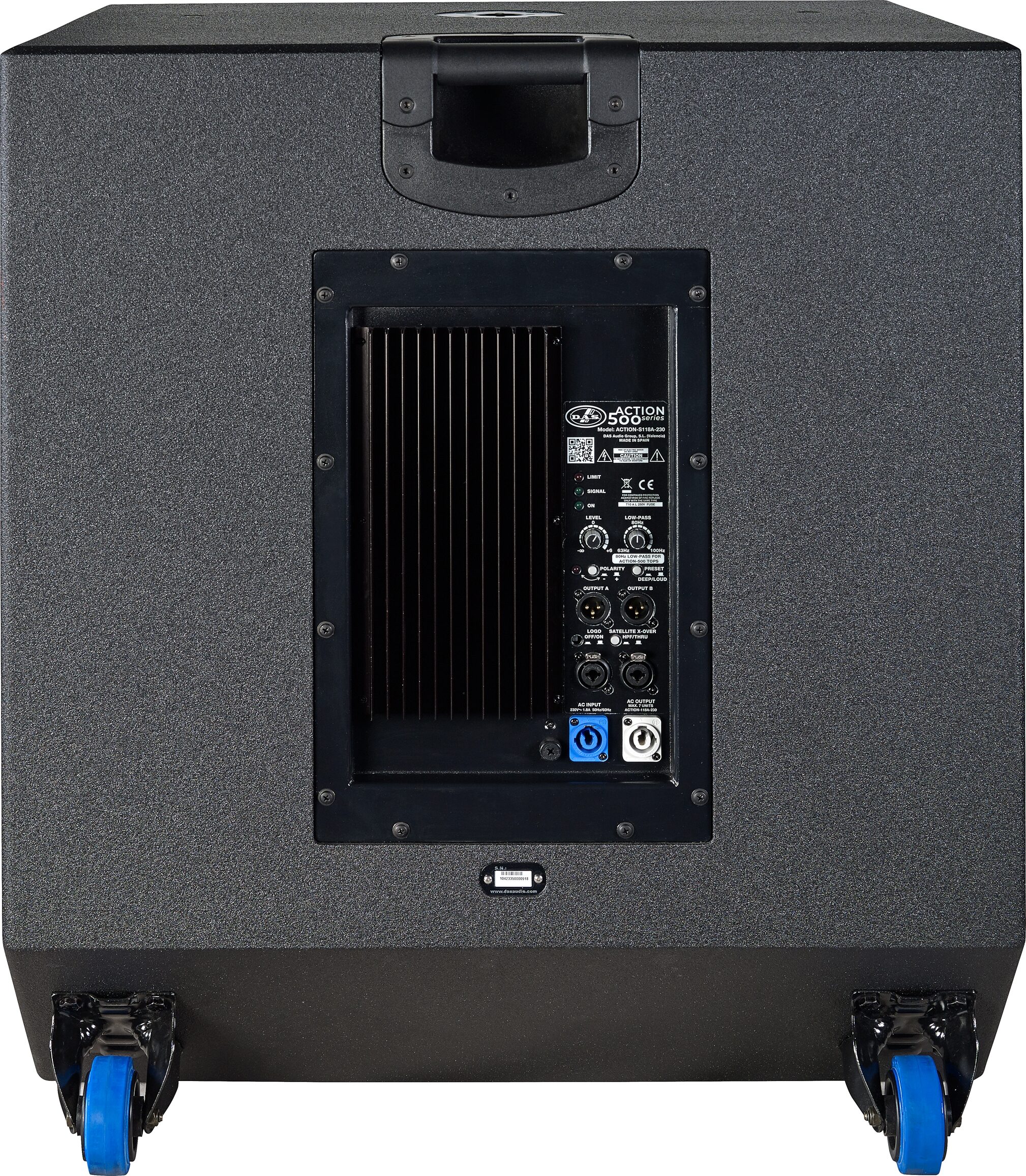 Technical data;
Active two-way loudspeaker
Class D-500W amplifier
New GV12 speakers and 1''driver M-34
Made of birch wood
Power; 500w/rms-peak 1000w
Frequency response;50Hz-20kHz (-10dB)
Efficiency max;131dB
Dispersion angle;90° x 60°.
Built-in DSP- (DAScontrol™) - choice of three different settings:
Live, Dance, Monitor, HPF and LPF filters.
The rear panel has two input channels - XLR-COMBO, Thru output - XLR Ż and AUX-3.5 mm mini Jack input
Power:powerCON
Ability to work as a stage monitor (45 degree angle)
Housing covered with ISI-FLEX paint
Black colour
Dimensions; 618x380x378mm
Weight;20kg.
Made in Spain
Warranty; 36 months

Udostępnij link do produktu
View full details
Masz pytania? Połącz się z naszym konsultantem, chętnie Ci pomoże!